Plastic Female wind jets nozzles
Design Features:

1.GS-- F006 wind jet nozzle can be of high momentum, fan-shape or circular compressed air.
2. It is made of vinyl cyanide - butadiene - styrene ABS plastic, designed for the cooling, drying and blowing applications for the conveyor, the air inflow control instrument panel and handheld devices;
a fixed row of nozzles can provide an effective air curtain.
3. Its interior aerodynamic design effectively reduces the air resistance during operating time, ensuring that the wind jet nozzle reduces noise and air consumption
while gaining high momentum force.

4.The maximum working pressure of the F006 wind jet nozzle is 4 bars. The air sprays from the 16 pillar holes on the fore-end of the nozzle, forming a fan-shaped jet of compressed air flow.
5.The injection molding of the nozzle uses ABS material.
GS-F006Wind Jet Nozzle Dimension Chart: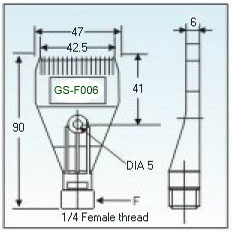 | | |
| --- | --- |
| Nozzle Model | F006 |
| A(mm) | 90 |
| B(mm) | 47 |
| C(mm) | 41 |
| D(mm) | 6 |
| E(mm) | Mounting hole ¢5 |
| F(mm) | Female 1/4'' |
| G(mm) | 42.5 |
| Nozzle material | ABS |