Mistking Dry Fogginng Device
Products Features:
1.Average grain diameter :7.5um .
2.Spray capacity (one nozzle):2.4L/h air pressure :0.3MPA
3.Only 4 pcs nozzles should be installed on the humidifier ,and easy-dismantling
4.It is suit for himidifying in small spack and not easy to wet wall
5.Long time design technology:
It adopts to advanced PTFE resin and stainless steel spout ,not easy to block .

Quick dismantling structure ,one-piece type for washer and nuts .It is convenient to maintain for spout
Performance :
Air pressure

Mpa

Spray Capacity

L/ h

Air consumption

N.L/min

0.3
2.4
29
0.35
2.7
32.5
Specification :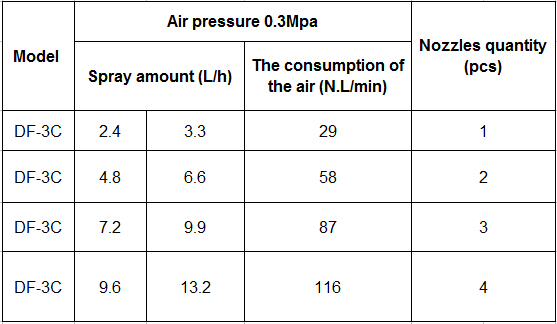 Application :
Humidifying for fiber ,cold store food ,mushroom cultivation ,proving room ,hatchery and ceramics factory

Humidity adjusting for fiber .Paper -making ,Synthetic board factory

Anti-static for spray coating ,spinning ,printing ,plastic film ,resin molding .Paper-making production line .

Quells dust for spray coating ,casting factory ,ceramics factory

Dustproof for resin molding ,plastic film ,spray coating .
【Previous】:No
【Next】:No