Farming high pressure fine fog spray nozzle
Products Introduction :
1.FD series high pressure anti-drop fine fog nozzles have guide vane inserted and have a anti-drop equipment.
2.Under the pressure of 20-70KG(290PSI-1015PSI), the liquid flows in a high speed forming a centrifugal vortex In the vanes, then spray the fine droplets from the orifice. This kind of nozzle can be used in artificial fog,disinfection, cooling, humidifying etc.
3. As the wide use in artificial fog industry, its also called artificial fog nozzle, cooling fog nozzle.

4.Material of Nozzles body : Brass brass coated with nickel and stainless steel
Material of Nozzles tip: Stainless steel, ceramic and ruby.
Specification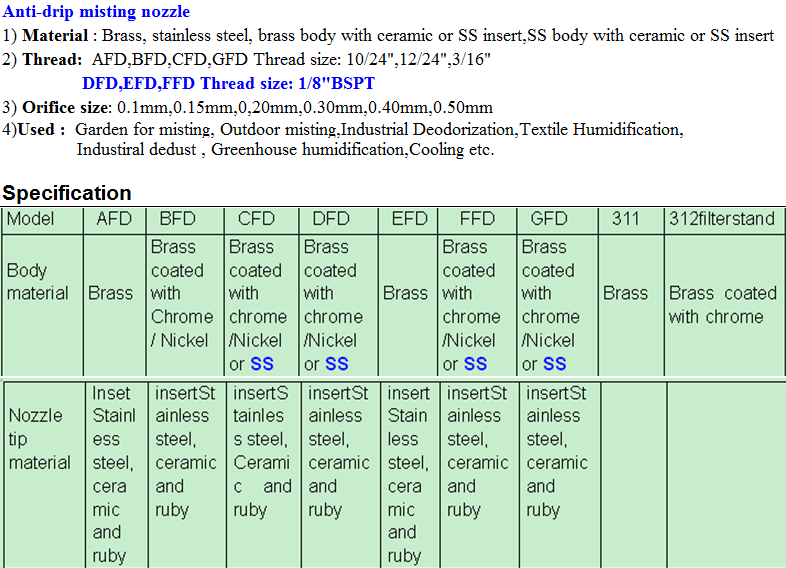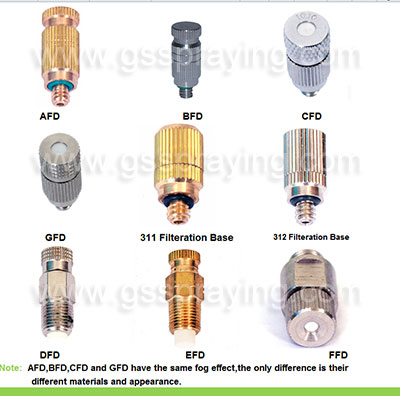 Features:
1.Thread Size:3/16'',10/24''&12/24''
2.SS orifice Size:0.1mm ,0.2m,0.3mm ,0.4mm ,0.5mm and larger.
Ceramic Orifice size:0.08mm ,0.1mm,0.2mm,0.3mm ,0.4mm ,0.5mm and larger.
3.Water Drop Size:15 micron---70 micron.
4.With Anti-drop Device inside Nozzle.
5.High working pressure :up to 1300psi(80bar)
6. Without airs supplementary, system device is simple.
7. Energy and water saving, low cost and good effects.

8. Nozzle tip uses wear-resistant materials, and service life is 2.5 times of similar nozzle.
Application:
Textile workshop humidification
Stock farm cooling sterilize
Man-made fog sight
Vegetable retain freshness
Dust removing and so on
Full system and application show :