U Flat fan spary nozzle
Product information :
1.Spraying systems veejet nozzles, pattern distributes the liquid as a flat- or sheet-type spray.
2.Small- to medium-sized drops.
3.Uniform distribution over a wide range of flow rates and pressures.
4. Spray angles of GS-U spraying systems veejet nozzles are available from 0° (solid stream) to 110° at 40 psi (2.8 bar).
5. Specially tapered spray pattern is ideal for use in manifold and header applications.
6. High impact solid stream provides highest impact per unit area.
7.Unobstructed flow passages minimize clogging.
8.Thread size :1/8", 1/4", 3/8", 1/2", 3/4", 1", 1-1/2", 2, 3 and so on.
Normally it is BSPT, if customer need NPT or others ,it can be customized .
Outside Measurement:
Male

hexagonal
measurement

Length

Net.Weight
(kg)

1/8

12.7

22

0.014

1/4

14.3

23

0.02

3/8

17.5

32

0.04

1/2

22.2

38

0.06

3/4

27.0

51

0.14

1

33

63.5

0.26

1-1/4

43

95.5

0.57

2

60

127

1.93
Spray pattern: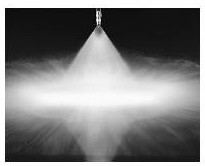 Applications:
• Air washing
• Cooling and quenching
• Dust control
• Fire suppression/prevention
• Gas washing
• Liquor washers
• Scrubbers
• Washing/rinsing
• Water cooling